Join us for our first workshop!
The very first ICOS workshop will take place in Grenoble, France, on April 26-28. We will have 9 sessions over 3 days, dedicated to 3 main topics.
EIC council
Thanks to the participation of European Commission representatives and linked actors, we will discuss the European Innovation Council programmes, and the help it offers to startups in fields such as microelectronics, nanotechnologies and so on.
Sustainable Electronics
Another part of the programme will be dedicated to the important topic of sustainability – how to develop sustainable electronics, what are the main environmental challenges of new technologies in their use or manufacturing? We will welcome experts from various backgrounds (academics, researchers and industrials) to reflect on these issues during a panel session.
Technology Scanning and Foresight
Our invited speakers will share insights and discuss their research on recent technologies and development in the field of semiconductors. In a special session, colleagues from Japan will introduce us to the Asian market and strategies in terms of semiconductors development and the benefit of potential mutual cooperation will be discussed.
This part of the workshop will also focus on the IRDS and Photonics roadmaps and existing chips Acts, with an evening discussion on the Strategy for International Cooperation.
Through this workshop, ICOS aims at gathering an overview of the semiconductors field, highlight the strength and weaknesses of the European continent in the value chain and scientific collaboration. But most importantly, this workshop will be a big first step to broaden international cooperation and prepare future projects, thanks to all the participants.
We invite you to share the small flyer with your network, but also fill-up the ICOS survey to help the project!
Thanks to all our partners, sponsors and supports. The ICOS team is very impatient to meet you all.
Registration is free but mandatory on the event page.
Download the flyer (pdf, 1 Mo)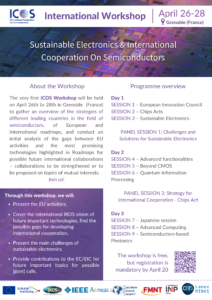 https://icos-semiconductors.eu/wp-content/uploads/2023/04/Workshop-PDF-Header-Img-H.png
782
1282
Milena
https://icos-semiconductors.eu/wp-content/uploads/2023/03/icos-logo-3.png
Milena
2023-04-07 15:25:01
2023-05-23 15:37:57
Join us for our first workshop!